Many industrial factories will face the problem of overstocking or insufficient storage space. However, expanding warehouse space may have a high cost per investment. This blog will invite everyone to get to know the Mezzanine floor as helpers to increase the factory's usable space. In addition to being worthwhile, it is also not a high investment and meets the needs of doing business.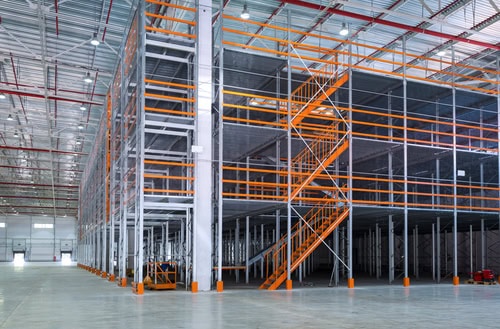 Mezzanine floors: Multi-purpose for increased space
Mezzanine Floor Knock-Down can solve the problem of insufficient storage space in industrial factories and warehouses. Mezzanine will have a clear height. It is designed to be easily assembled and dismantled. It is also easy to move and can be adapted to use at various levels as well.
The knock-down Mezzanine will also have stairs and railings to prevent falling. It, therefore, adds even more comfort. In addition, it can meet all purposes of use, whether increasing the space for storing equipment in the warehouse or expanding the office space in the factory and allowing for the placement of more machines, etc.
Mezzanine Floor Solutions For All Industries
Many industrial factories and warehouses face the problem of space congestion. It includes restrictions on building extensions that prevent proper expansion.
Applying a knock-down mezzanine has become a solution that can comprehensively meet the needs of entrepreneurs. It can save cost, save construction time and effectively increase usable space. Business sectors also can adapt the mezzanine as follows.
The functionality of the knock-down mezzanine can help increase storage space. It can also be dismantled or moved as you wish. So it helps to save the budget from expanding the warehouse. Plus, it can store more stuff than before.
Another area that is very important to industrial operations is where large quantities of goods are handled before they are distributed to different destinations. Therefore, implementing a knock-down mezzanine is a suitable option in many aspects because in addition to helping to spread the density of storage products conveniently. It is also easy to transport and create an orderly distribution.
It can help manage production bases that can increase machine power for industrial plants more conveniently. In addition, a Multi-purpose knock-down mezzanine is an option to expand the space without high investment.
It can meet the needs of stores and Outlet that wants to expand the area but has limitations in building extension. The knock-down mezzanine can easily expand multi-purpose space, and the idea of installing a mezzanine also saves more budget.
It can make it easier to create office space in a warehouse. Just using the Mezzanine to install makes the temporary office. It's a one-stop solution for warehouse coordination. It's also economical and easy to dismantle or reinstall easily.
Advantages of Mezzanine for industrial sectors
Designed to be easy to assemble and install and convenient to move
Cost-effectively increasing usable space can save the cost of expanding more space.
It can be adapted to use in a variety of ways to meet every need
The knock-down mezzanine can be designed to be higher than 2-3 floors.
Convenient, safe and able to support the weight stably
If you want to expand the space in the industrial factory or warehouse, the Knock-down mezzanine is one of the most suitable options. It is one of the most efficient services from Tellus because we are the leader in innovative storage and product placement that many business trusts. If interested, inquire or ask for more advice at 02-643-8044-8 or Line
@tellussystems
.